April 12, 2016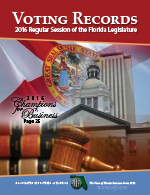 Tallahassee, Fla. – The Associated Industries of Florida (AIF) today released its "2016 Voting Records" report, which serves as an outlet for employers to see how decisions made by their lawmakers during the legislative session are directly impacting their businesses.
For the last 41 years, AIF has published its Voting Records – the definitive legislative scorecard for the business community, calculating more than 203,298 votes on 1,896 bills with 798 legislators.
"During each legislative session, AIF strives to work cooperatively, and steadfastly, with the Florida Legislature on behalf of Florida's families and business communities to ensure their best interests are considered," said AIF President & CEO Tom Feeney. "We are proud to announce that this year's efforts were a tremendous success, with the Florida Senate voting in favor of the business community 86 percent of the time and the Florida House of Representatives voting favorably 94 percent of the time."
"AIF thanks the Governor and the Legislature for once again making decisions that promote a healthy and competitive business climate in the State of Florida, and is proud to work with a Legislature where 35 of the lawmakers voted in favor of the business community 100 percent of the time," said Feeney. "We applaud them for their hard work and for powering the business community forward by eliminating the sales tax on manufacturing machinery and equipment and by passing a tax package that truly meets the needs of Florida's families and businesses."
"One of our highest priorities going into this past session was encouraging our lawmakers to address Florida's major water challenges by developing sound, comprehensive science-based water policy," said AIF Senior Vice President of State and Federal Affairs Brewster Bevis. "We appreciate their passage of the comprehensive water reform legislation, which showed Floridians across the state that their elected officials are dedicated to improving our water quality and are ready to plan for our state's environmental and economic future."
An electronic version of AIF's 2016 Voting Records Report can be found here.
Known as "The Voice of Florida Business" in the Sunshine State, AIF has represented the principles of prosperity and free enterprise before the three branches of state government since 1920. A voluntary association of diversified businesses, AIF was created to foster an economic climate in Florida conducive to the growth, development, and welfare of industry and business and the people of the state.
For more information on AIF, please visit AIF.com and follow @VoiceofFLBiz.
# # #